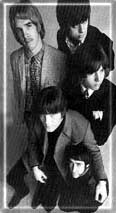 Hear The Misunderstood's Classics
FREE MP3 DOWNLOADS
GREG'S WOODIE

INT. WOODIE

In the car Greg turns on the radio and it's the Beach Boys

SFX Cue Beach Boys SURFING USA

A stereotypical California surfer scene: a bunch of blond-haired surfer boys in their woodie listening to surf music.

INT. WOODIE. CU RICK'S FACE

Expression of distaste.

RICK:
Turn that surf shit off!
(he snaps )

Greg turns it off and everyone laughs at the unintended irony of this statement. Greg reaches out and changes the radio.

SFX CUE Psycho Daises by the Yardbirds - and the song plays in the background throughout the following scene

INT. WOODIE

Small amps, guitar cases and drums in the car including a bass drum with the logo: Treadway & Company, indicating they are a band.

GREG:
How come they don't play Slim Harpo on the radio?

RICK:
Because normal people are too square to know who Slim Harpo is!

INS Scene of the other cars on the freeway and their all-American crew cut passengers show this is true.

R-MOE:
Shit, we're lucky if they even play the Animals or the Kinks on the radio! Like this Yardbirds song is tits! But they hardly ever play it

RICK:
What station is this?

R-MOE:
KMEN - in San Burdo. They got a real English DJ

RICK:
Yeah?

GREG:
(glumly)
Maybe we shoulda just stuck to playing surf music!

Everyone ponders this statement, then Greg cracks a smile:

GREG:
NAH!
Surfing is bitchen but,

EVERYONE:
(joining in loudly)
SURF MUSIC SUCKS!!!

They all fall about laughing; except George

CUT

EXT. LATE AFTERNOON. WOODIE

Continues down the freeway. Surfboards conspicuously strapped on top

R-MOE V.O.:
Come on, step on it, Greg. We gotta pick up Steve and get to the gig.

About—Adapt—Images—Support—Band

---
First he gets murdered - then his adventure begins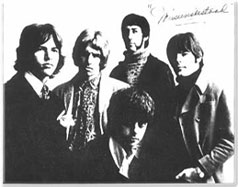 A Rock 'n' Roll Saga like NO other!!!