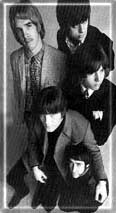 Hear The Misunderstood's Classics
FREE MP3 DOWNLOADS
ENGLISH BAND?

EXT. NIGHT. MOZER'S DINER

As Glenn and Ardell are leaving, the Treadway & Company van pulls up to the diner. Rick, Steve and Greg get out. As the three band members enter the restaurant, Steve politely holds the door open for Ardell and Glenn as they leave. He makes eye contact with Ardell – showing his charm with the ladies – but Glenn and the guys do not notice each other at all.

INT. NIGHT. MOZER'S DINER

The three band members take the booth next to Glaser's. Glaser is facing the other direction so they can't see each other, but the back of his head is visible in various shots throughout the scene, indicating that he is most likely listening in and absorbing their entire conversation.

RICK:
He's still got his hair all short and slicked back with Brylcreem. He needs to get the English look!

STEVE:
The American girls scream and go crazy for all those British guys, but we go up there playing the same kind of music and they won't give us the time of day.

GREG:
Yeah and the guys just want to beat the crap out of us!

RICK:
If we were English it would be different.

GREG:
We'd be rich.

STEVE:
Yeah and get all the girls we could ever want!

They laugh about this a while and start affecting English accents, e.g., I say old chap, etc. The waitress comes over.

WAITRESS:
May I take your orders?

GREG:
(in phony English accent)
Yes, indeed! 'll have a spot 'a tea

WAITRESS:
Excuse me?

RICK:
(In bad English accent)
He'll 'ave a cup of tea, as you say here in America, luv.

WAITRESS:
OK! And you?

STEVE:
'll 'ave the same, luv.

RICK:
Me too, luv

WAITRESS:
Are you fellas from England?

GREG:
Why, yes, we're in a band. How could you tell?

WAITRESS:
Gee! You're the first English men I ever served.

In the back a couple of pretty teenage girls – KATHY SEXTON and TANNY NICODEMUS – They overhear some of this and start nudging each other. Eventually they come over to the table, and rather shyly ask:

KATHY:
(speaking to the guys)
Are you guys in a band? from England?

GREG:
(in phony accent)
Yes, and I'm Treadway! Gregory Treadway the Third

…explains Greg in a ridiculous British accent, trying to score some extra points.

KATHY:
Mind if we join you?

RICK:
(in phony accent)
Oh! By all means…please DO sit down

The girls join them at the booth and the flirting escalates as the guys lay out their improbable story.

STEVE:
Yes, I guess we are the ONLY English band in Riverside right now, maybe even all America

KATHY:
Wow! That's pretty cool. Ya know, my mom is in show business and maybe she could help you guys out. She'd love to get involved with an English group!

The guys wink at each other, figuring the girl is probably inventing some fiction of her own. Then she presents her mom's business card to Greg, the obvious band leader. Greg takes the card and looks at it…

INS CU BUSINESS CARD

Lee Sexton, Artists Management & Representation, Riverside, California, etc…

Now they're actually interested.

KATHY:
You should give her a call.

GREG:
(uncertainly)
Yeah All right, then...

RICK:
(to Tanny)
Maybe I'll give you a call.

There's some chemistry between Rick and Tanny

STEVE:
Hmm… Tell me something,
(Steve asks Kathy after some thought)
Is your mother as good looking as you are, dear?

Kathy looks taken aback for a second, then everyone laughs like this is just another strange example of English humor. In the course of the laughter though Steve gives Rick a secret wink like "Hey, maybe the mom is hot?"

INS CU GLASER

He has found the whole exchange quietly amusing.
About—Adapt—Images—Support—Band

---
First he gets murdered - then his adventure begins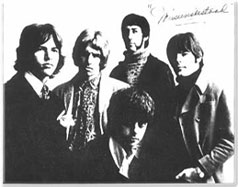 A Rock 'n' Roll Saga like NO other!!!