ARDELL'S VISION

INT. CAMPBELL HOUSE.

SFX a 50s style sewing machine.

Camera sweeps the house showing shelves of books on mystical and metaphysical topics, folk art, sculptures, paintings, rocks, crystals.

INT. GLENN'S LIVING ROOM
Ardell sits at a sewing machine, watched by Glenn. She is working on matching garments in a heavy terry cloth in a yellow/saffron color.

ARDELL:
I had one of my dream glimpses this afternoon....

GLENN:
One of your visions?

ARDELL:
You were a soldier in the jungle, crawling along on your belly. There were four other boys with you, crawling right there next to you. You were all terrified. Bullets were whistling just inches above you. But the bullets would slow down - you could see them spinning silver in the air with a singing sound - just above your heads. Then the bullets would flash away - almost like dragonflies.

Ardell describes her vision...

EXT. NIGHT. VN JUNGLE
Glenn along with Rick, Steve, R-Moe and Greg crawling through the jungle mud of Vietnam, with the terrifying silver bullets hovering close then whistling away.
SFX The bullets make a singing, soaring sound, not unlike Glenn's steel feeding back in slow motion, this sound backed up by the machine gun rattle of the sewing machine.

SFX Ardell Sewing Machine rattle

GLENN V.O.:
Who were these other boys - the guys in the Answers?

ARDELL V.O.:
No. No, I'd never seen these boys before.

GLENN V.O.:
So what ended up happening?

ARDELL V.O.:
There were five boys, then four, three - they would just disappear like smoke - Finally there was only one boy crawling down into the mud,
The bullets were swarming all over him, like silver bees, but they still never quite touched him. Then it was over in a flash of blue light - just like always.

GLENN V.O.:
Was it me? Was the last boy me?

INT. GLENN'S LIVING ROOM

ARDELL:
No. No, it wasn't you, honey. It was one of the others.
(she shudders)
I can still see his face.

INS NIGHT. VN JUNGLE. CU FACE OF RICK WHO IS CRAWLING

MORPH

About—Adapt—Images—Support—Band

---
First he gets murdered - then his adventure begins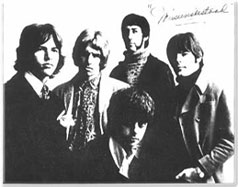 A Rock 'n' Roll Saga like NO other!!!