BACK TO MOZER'S DINER

INT. CU - RICK'S FACE

INT. PAN BACK TO REVEAL RICK IN MOZER'S DINER
He sits in a booth next to Tanny. Opposite them sit Steve and Suzie. Steve has his arm along the back of the booth behind Suzie. On the table is a small pile of the acetate discs. Tanny picks one up.

TANNY:
So what is this? Like a record?

RICK:
It's an acetate, baby. It's like a demonstration record - a demo.

TANNY:
(waving the disc)
It's heavy though!

RICK:
Yeah, that's because it's made out of metal. The acetate is the plastic coating where the grooves are printed.

SUZIE:
So it's not like the records we have at home?

RICK:
(patiently)
No. Mr. Locy just made like a dozen or so of these for us, to play for the record companies. Then if they like our music they'll press up some real records of our songs - like thousands of 'em!

STEVE:
Millions maybe!

TANNY:
(starstruck at the very thought of it)
Wow! Cool! And then you'll be pop stars - like the Beatles!

Rick and Steve scoff at this suggestion.

STEVE:
The Beatles? No way! Like the Them or the Animals.

RICK:
No!
(he pauses for effect) )
Like the Yardbirds, man!

Rick and Steve nod their agreement at this statement.

TANNY:
(a little put off)
I still prefer the Beatles.

STEVE:
Seriously though, you think any of these Hollywood types are gonna go for our sound?

RICK:
You're starting to sound like George, man! Of course they will. You heard that stuff we did today - it's tits up!

SUZIE:
What's George's problem anyway? He's always so grouchy!

TANNY:
I don't think he likes me. He's never said so much as a word to me - and Rick and I have been going out for three months now!

STEVE:
I don't think he likes anyone. He's a good guitarist but it seems like he's not into the music anymore at all. What gives?

RICK:
Maybe Greg knows - he's known George the longest. They were like neighbors since they were kids. It was Greg and George who started the band in the first place, along with R-Moe on the drums.

STEVE:
They were Treadway and Company?

RICK:
No, that was when I joined. Before that they were the Blue Notes. They had blue suits, blue shoes, blue guitars, blue drums - I think they even dyed their hair blue at one point! And they played surf music.

Everyone laughs at their own mental picture of this.

INS ACROSS THE ROOM. ALFRED GLASER
He is working on some papers and sipping coffee. He can overhear their conversation.

RICK:
Then they decided they wanted a singer and that's when I joined. Then we became Treadway and Company and we started doing more of the blues stuff.

STEVE:
No more blue hair though?

RICK:
(laughs)
No way, bro! Greg was always the leader back in the early days and he was the one coming up with those kindsa wacky ideas. You know Greg's sense of humor!

STEVE:
Greg's hilarious, man! But I can't see George going along with all that stuff.

RICK:
He used to be cool, man, real laid back. He's changed. Maybe he's got troubles at home or something.

STEVE:
Hey man, I've got troubles at home too, but you don't see me complaining and being a pain in the ass. Shit, I was living at the Y for two months after my old man kicked me out - it was hard - you know all about my old man and his gun. Then I met you guys and Frank, and now I got a new family.

Everyone seems touched but also a little embarrassed by the frankness of this revelation.

RICK:
Maybe George isn't happy with the changes in the group. He was happier when Greg was the leader and it was Treadway and Company. Now it's you and me calling the shots, bro - and it's the Misunderstood.

SUZIE:
And George feels like he's the most misunderstood of all!

RICK:
Well, tough shit for him.

FADE OUT

About—Adapt—Images—Support—Band

---
First he gets murdered - then his adventure begins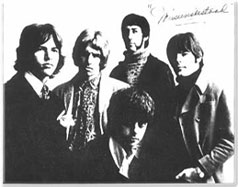 A Rock 'n' Roll Saga like NO other!!!