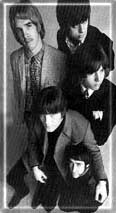 Hear The Misunderstood's Classics
FREE MP3 DOWNLOADS
HIGH SCHOOL RUMBLE

EXT. NIGHT. POLY HIGH

Various members of the Mystics and Treadway & Company are outside the gym after the dance, having just loaded up their vans. Suddenly Bob Sandell stumbles up to them holding his nose, which is bleeding profusely. The others rush up to see what's wrong.

BOB:
(Holding his bloody nose)
Shit man, there's a big fight around the corner, some spicks started trouble with the surfers. One fucker ran up and nailed me!

SFX shouting from the distance where the action is going down. Everybody is suddenly full of bluster, especially Rick, Steve and Rod.

ROD:
Fuck that, man! Nobody punches my guitar player!

RICK:
Yeah! Nobody messes with Bob!

The band members head around the corner ready to kick some ass. A couple of them have pieces of microphone stands in their hands.

EXT. NIGHT. THE GANG

Turning the corner they see a huge crowd of large, fierce looking Chicanos facing off against a few surfer types. Some of them have knives, others have chains and baseball bats. One surfer is already down on the ground getting kicked by two large Chicanos.

EXT. NIGHT. THE BAND GUYS

The guys freeze in their tracks about 50 metres from the scene.

GREG:
Forget this, guys!

RICK:
Er yeah. Maybe they can mess with Bob!

They glance at Steve, the most physically imposing band member.

STEVE:
Don't look at me!

EXT. NIGHT. THE GANG

Suddenly one of the Chicanos spots the band members. He points and shouts something unintelligible.

EXT. NIGHT. THE GUYS

GREG:
I'm outta here!

The band members turn and run for the vans, scared but some of them also laughing wildly at their sudden cowardice in the face of real violence. The two vans screech out of the parking lot just ahead of the Chicanos,
SFX BOOM!!!
...one of the gang manages to land a *deafening blow with a bat* on the side of Greg's vehicle.
As they drive away Steve hangs out of the window extending his middle finger.

STEVE:
(shouting)
AND LET THAT BE A LESSON TO YOU! NOBODY MESSES WITH BOB!

SFX This comment is followed by screams of laughter from the others.

FADE TO BLACK
About—Adapt—Images—Support—Band

---
First he gets murdered - then his adventure begins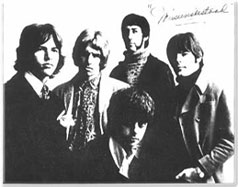 A Rock 'n' Roll Saga like NO other!!!