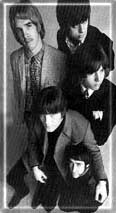 Hear The Misunderstood's Classics
FREE MP3 DOWNLOADS
VAN DISCUSSION

EXT. NIGHT. VAN GOES BY

INT. VAN

Greg's band van/woodie. All five band members are present as they drive home from the gig. Greg is at the wheel, R Moe in the front passenger seat. Rick, Steve and George are in the back, wedged in among all the equipment. A heated conversation has been taking place, primarily between Rick and Steve, but with the others listening and occasionally participating.

RICK:
We're busted, man! It's only a matter of time before she finds out anyway!

STEVE:
Shit! You think Lee will still want to manage us when she finds out we're just a bunch of surf hicks from Riverside? And what about the Press-Enterprise article? Being English is our gimmick, man! It's what sets us apart from the rest of the bands.

Nobody speaks for a while. All are thinking hard, exasperated by this predicament, except for George who sits brooding darkly to himself.

GREG:
If we can just keep it up for a few more weeks. We got this regular Fontana gig now. Nobody in Fontana is any the wiser - they don't who we are.

RICK:
In Fontana, no - but what about when we play in Riverside? Everyone there knows we're from Poly. We'll be a laughing stock talking like a bunch of Limeys!

R-MOE:
Yeah and there were Riverside kids in the club tonight. You heard 'em snickering.

Rick winces at the memory of this.

STEVE:
Listen, Greg is right. We just need to keep up the masquerade for a few more weeks. We've got bookings - the newspaper article. I'll figure out a way to break the news to Lee later.

RICK:
No way, man. I can't do this anymore. It's bullshit. We gotta come clean.

R-MOE:
Whose stupid idea was this whole English thing anyway?

RICK:
(laughing)
You can blame Treadway for that one!

GREG:
Bullshit! You started it, Brown - trying to impress those chicks at Mozer's that night.

RICK:
No way! You were the one who was all "Treadway and Comb-pany - and I'm Treadway!"

Rick and Steve laugh, while Greg protests his innocence.

Suddenly George speaks up - he's angry.

GEORGE:
Can you guys just shut the fuck up about all this bullshit! None of us have ever even been to England!

STEVE:
Actually, I have...

George shoots Steve a look that silences him immediately.

GEORGE:
I don't know how or why we started pretending we were a bunch of Limeys, but I'm done with it! No more Limey BS!

The van drives on through the night in silence. Everybody is stunned by this outburst. Finally Rick speaks up.

RICK:
All right then. No more Limey BS. But how are we gonna break the news to Mrs. Sexton?

STEVE:
We gotta just come clean to her. There's no other way.

GREG:
Dude! She's gonna flip!

R-MOE:
Yeah. She's gonna be pissed - big time! You think she's still gonna want to be our manager after that?

RICK:
I don't know. I sure hope so. She seems to have a way of making things happen.

The van drives on into the night and all is silent for a while. Eventually Greg switches on the car radio.

SFX A news report briefly mentions the deployment of more US troops to Southeast Asia

INT. IN THE BACK OF THE VAN

Steve and Rick can talk quietly, unheard by the others, except possibly George.

STEVE:
There's another thing Lee talked to me about tonight after the gig.

RICK:
What's that?

STEVE:
She wants us to change the name of the band.

RICK:
(glancing around to check no one is listening)
To change our name?!

STEVE:
Yeah. Treadway and Comb-pany just ain't cuttin' it anymore. She's got a much better idea.

Rick looks at him quizzically.

STEVE:
(whispering)
I'll tell you later.

INT. NIGHT. VAN. CU GREG AT THE STEERING WHEEL

...unaware of the upcoming changes.

EXT. NIGHT. RIVERSIDE FREEWAY SIGN

A road sign indicates they are entering Riverside.

FADE TO BLACK.

About—Adapt—Images—Support—Band

---
First he gets murdered - then his adventure begins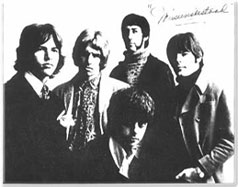 A Rock 'n' Roll Saga like NO other!!!