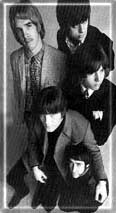 Hear The Misunderstood's Classics
FREE MP3 DOWNLOADS
COMING CLEAN

EXT. DAY. BACKYARD OF THE SEXTON RESIDENCE

A smart upper middle class home in the Riverside area. The yard is decorated with a South Pacific motif - lots of bamboo and Tikis. There is a large, kidney-shaped swimming pool with various deck chairs and sun beds around it. Mrs Sexton is stretched out on one of the sun beds. She is wearing an attractive, colorful bikini, a sun hat and dark glasses. She is reading Billboard, a music trade magazine, and sipping a cocktail.

The glass doors at the back of the house slide open and Kathy comes through with Steve and Rick trailing behind her, looking a bit sheepish.

LEE:
Stephen! Richard! What a lovely surprise. Please do sit down. Can I have Kathy fix you a drink?

RICK:
Ahh, we'll have cokes, thanks

Rick and Steve nervously greet her but remain standing Kathy goes into the house to get the drinks.

STEVE
Mrs. Sexton, we have a confession
(pause)
we're not from England
(pause)
We're from Riverside

LEE:
Is that it?

STEVE:
Well... er, yeah. That's it.

LEE:
(taking off her sunglasses)
Tell me something I don't know, darling!

INS STEVE AND RICK LOOK AT EACH OTHER, CONFUSED.

LEE:
My dear boys, I may be a hopeless romantic but I wasn't born yesterday!

RICK:
You knew?

LEE:
I'm not stupid, Richard! And I would never have got this far in the business if I was.

Rick and Steve start laughing with relief.

STEVE:
You knew? And you let us keep on with that whole stupid act?

LEE:
Oh yes. This business is all about performance, Stephen, and you boys performed beautifully.

Rick and Steve laugh in disbelief.

Kathy comes out of the house carrying two tall glasses of Coke which she hands to the boys.

LEE:
Kathy dear, the boys just made a confession - they're not from England after all.

KATHY:
(genuinely surprised)
What?

LEE:
They're from Riverside, darling. Poly High. Right, boys?

Rick and Steve nod and shrug, a little embarrassed.

KATHY:
(getting more upset)
All of them? The whole band?

STEVE:
'Fraid so.

Kathy burst into tears and goes running into the house.

LEE:
Don't worry, she'll get over it.

RICK:
So you'll still be our manager then?

LEE:
Naturally!

RICK:
And what about the newspaper article - about the group from England?

LEE:
Well, now they'll have an even better angle for the story, won't they: "The group who pretended they were English to get ahead..."; And of course it all ties perfectly into the new name I can up with. Did you tell him, Stephen?

STEVE:
No.

LEE:
THE MISUNDERSTOODS!

There is a short silence while Rick considers this.

STEVE:
(to Rick)
So? What do you think?

RICK:
Yeah! It feels right, except, one change... THE MISUNDERSTOOD!

LEE:
(delighted)
Yes! Perfect darlings! The Misunderstood it is!

RICK:
(to Steve)
Now we just gotta find a way to break it to Greg!

CUT.

About—Adapt—Images—Support—Band

---
First he gets murdered - then his adventure begins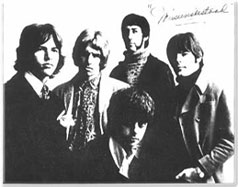 A Rock 'n' Roll Saga like NO other!!!