IN THE NEWS

INT. EVENING. GLENN'S BEDROOM.

INS CU OVER GLENN'S SHOULDER POV TO THE NEWSPAPER ARTICLE

Headline: HOW TO FIND FAME, FORTUNE IN AMERICA: ACT ENGLISH. The article includes a photo of the newly named Misunderstood.
Camera pulls back showing Glenn's small cramped room, which includes a desk scattered with various electronics equipment and schematics. There are books and magazines everywhere, music trophies and various models of dinosaurs and animal skeletons. The curtains are open, though it is dark outside. A lamp on the desk casts the only light in the room. Glenn now has his hair combed down and forward in a moptop style.
Glenn puts down the newspaper with a smile, sits behind his steel guitar and reaches back to switch on the small amplifier behind him. He has a volume pedal rigged up to his steel and he makes a few exploratory sounds, playing chords and making them swell and fade. It sounds eerie and cool - like a theremin in an old science fiction movie. Glenn's face has a haunted, faraway look as he plays with the different tones of his instrument. As the eerie music continues the camera pans around the walls where there are framed photographs of Glenn as a child, with his music teacher, and with the Goldtones. The final photograph is framed at his bedside: a shot of Glenn as a young child with his mother and father. There is a tap on Glenn's door, interrupting Glenn's reverie. Glenn's door opens and Alfred Glaser appears dressed in a dark suit and tie. He enters the room.
GLENN:
Mr Glaser!

GLASER:
How you doing there, Glenn? I just stopped by to drop a few books off for your mother.

Glenn nods and Glaser sits down on the edge of the bed. Glaser is now a frequent visitor to the house and has become something of a father figure and mentor to Glenn.

GLASER:
You know your mother is quite an extraordinary woman, Glenn. Her powers of extra sensory perception are more evolved than just about anyone I've encountered in my research.

GLENN:
Yeah. Mom's always been able to see things other people can't. She has premonitions about people all the time, but she's afraid to tell them.

GLASER:
People are afraid of what they don't understand.

GLENN:
(indicating Glaser's book lying nearby)
Just like you wrote in your book.

GLASER:
(smiling at Glenn's enthusiasm)
What you working on there?

GLENN:
(stands up to point out his set-up)
I rigged up a volume pedal and also... a light bulb here in the output of the amplifier. The light should respond to the I'm playing.

GLASER:
Show me.

Glenn switches off the desk light and begins to play some phrases on his steel. The light in the back of his amp gets brighter and dimmer in time with the music. The effect is extremely eerie. Glenn seems to enter a kind of dream state as he plays. Caught in the changing lights Glaser has a mysterious, almost otherworldly demeanor. After a short time Glenn stops and turns the light back on.

GLENN:
(anxious to please)
What do you think?

GLASER:
(thinking long and hard)
Extraordinary. Just fascinating. Now, what if you used different colors of light?

GLENN:
I'm not sure. I need to get some more manuals and try and figure that out.

GLASER:
I think there's some interesting potential there. I may be able to access some literature for you. Covert agency stuff - Top Secret, you understand?
Glenn looks extremely impressed by this offer.

GLASER:
(changing the subject)
You still playing with those other boys in the group?

GLENN:
Yeah! We finally got ourselves a name too.

GLASER:
Oh yeah? What?

GLENN:
(picking up Glaser's book)
THE ANSWERS!

Glaser and Glenn both smile. It is an important bonding moment between this strange, basically lonely man and the kid without a father.

GLASER:
(sincerely)
I like that, son. I like that very much.

Glenn looks boyish and positively radiant - the happiest he's looked up unitl now.

FADE

About—Adapt—Images—Support—Band

---
First he gets murdered - then his adventure begins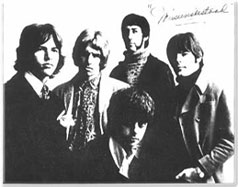 A Rock 'n' Roll Saga like NO other!!!