BACK IN FONTANA

EXT. EVENING. FONTANA NIGHTCLUB
Greg's woodie pulls into an already crowded parking lot. Kids are milling around, socializing, etc, or just heading for the inside.

INT. VAN
The band members look surprised and excited. FRANK CASAREZ, a Latino surfer of their age is also in the van.

FRANK:
Check it out!

R-MOE:
All these people are here to see us?

INT. BACKSTAGE
Lee Sexton is glancing at her watch, impatiently. Kathy and Tanny are also hanging around. The band members enter, hurriedly carrying in various amplifiers and drums.

LEE:
Come on, boys, you're late! I told you: be here before 7:00!

RICK:
Sorry, we were late back from the beach.

LEE:
What are you? Surfers or musicians?

GREG:
(grinning)
Can't we be both?

LEE:
(scolding them but happy)
Well, you better set up your stuff fast, surfer boys. The place is already sold out.

Frank walks through carrying an amp and a guitar case and Lee stops him gently by putting the palm of her hand on his chest.

LEE:
Wait a minute - who are you?

FRANK:
Frank Casarez, ma'am.

GREG:
He's helping us out moving the gear. We practice at his place now.
Lee lets him pass.

LEE:
Very well.

Greg, R-Moe and George follow Frank through with the equipment.

FRANK VO:
(shouting back jokingly)
And I'm a surfer not a musician, ma'am!

The others laugh loudly.

Steve and Rick remain backstage.
Rick gives Tanny a kiss.

Kathy and Lee both eye Steve.

STEVE:
(to Lee)
Looks like that newspaper article helped spread the word.

INT. FONTANA NIGHTCLUB
A couple girls enter. They're 16 or 17, a couple of years younger than Tanny and Kathy. It's Rick's younger sister SUZIE BROWN, blonde-haired and vivacious, and her friend, a slightly plainer brunette. The girls are bubbling with enthusiasm to be hanging out in this cool place with the older crowd. While this conversation takes place the rest of the band members pass to and fro with the amps and drums - doing all the work, while Steve and Rick socialize.

SUZIE:
Rick! Can you believe it? All these people here - just to see you!

Rick gives his sister a hug. Steve looks her up and down.

RICK:
Yeah, pretty cool, huh? Look, I gotta get ready to play. Run along and I'll catch ya later, OK?

SUZIE:
'kay!

Suzie and her friend skip away, but not before Suzie gives Steve a long look.

STEVE:
(to Rick)
Dude! Your sister's hot!

RICK:
(frowning)
Aw, man!

Steve gives a look like "ulp! whoops!" He glances around to the others for sympathy but Lee and Kathy both shoot him black looks. Steve and Rick head towards the stage - camera tracks in front of them.

STEVE:
Sorry, bro... but your little sister's a fox!

Rick's facial expression shows he doesn't like the way this is heading, but maybe he can't stop it. A few minutes later, shot from behind the stage. The band is set up and ready to go. As they take their places there is a big cheer from the crowd. The place is jam packed with people.

RICK:
Good evening!

The band members make a few noises on their instruments as they check their levels. The atmosphere is electric. All the band look eager and excited, except George who, as always, is stone-faced. Tanny and Kathy shove their way up front, next to Suzie and her friend. Suzie is right in front of Steve, who notices her right away.

RICK:
We're Misunderstood - we're not from England!

There's another big cheer from the crowd along with scattered laughter.

RICK:
We're from Riverside - Southern California!

There's another huge cheer as they launch into their first number

SFX Cue "Got Luv if You Want It" (Misunderstood version)

And the place starts rocking out. The Misunderstood are starting to happen.

INT. SIDE OF THE STAGE. LEE SEXTON
Her look sours when she notices Steve giving Suzie the eye. Lee reaches into her bag for a cigarette to calm her nerves. Before she can light it Frank steps up and lights it for her, then lights his own: a slightly suspicious looking roll-up. He gives her a big smile - just a big hearted guy ready to help out, no ulterior motives. Lee goes back to enjoying the music, along with everybody else.

INT. FONTANA NIGHTCLUB CROWD

About—Adapt—Images—Support—Band

---
First he gets murdered - then his adventure begins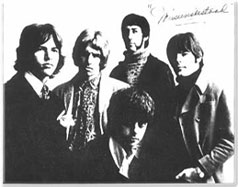 A Rock 'n' Roll Saga like NO other!!!