LOCY DEMOS

EXT. DAY. LOCY RECORDING STUDIOS
Greg's van is parked outside and the guys, along with Frank, are loading their instruments and amplifiers inside.

INT. LOCY RECORDING STUDIOS
A small town recording studio circa 1965. A largish room with various vintage microphones, music stands, folding chairs, soundproofing tile on the walls and ceiling. A bespectacled, heavyset man of about 55, wearing a short sleeved white shirt and dark tie, indicates where the drums should be set up and the positions for each of the amplifiers.

STEVE:
(to Rick as they carry in then the bass amp)
Ever been in a recording studio before?

RICK:
Nope.

STEVE:
Me neither.

RICK:
Looks pretty cool.

STEVE:
Yeah. Sure does. Think we can pull it off?

RICK:
(confident)
No problem, bro! We got our shit down. We'll sound great. You heard what Lee said: we just need to get some of our songs down on tape, then we can get some record labels interested. There's like hundreds of labels in Hollywood looking for groups.

GEORGE:
(overhearing)
Pschaw! You think some big Hollywood record company's gonna be interested in hearing what a bunch of hicks from Riverside can do?

RICK:
(rolls his eyes)
Well, what do you want to do? Look for a record company here in Riverside? I don't think you'll find any, George!

Rick and Steve laugh and George stomps off looking pissed off.

STEVE:
Dude, what's with him these days?

RICK:
Mister fuckin' negativity!

SFX Cue music: "Don't Break Me Down" (from Locy acetate)

INT. MONTAGE FROM THE RECORDING SESSION

THE BAND MEMBERS CONCENTRATING HARD ON THEIR PARTS
headphones on, microphones dangling in front to their amps.

SOME FLUBBED TAKES MARKED BY LAUGHTER AND JOKES

GEORGE ALWAYS LOOKING SOUR

A FEW HARSH EXCHANGES BETWEEN GEORGE AND R-MOE, GEORGE AND RICK

WILLIAM LOCY BUSTLING AROUND
adjusting microphone positions, instructing the musicians.

TANNY AND SUZIE STOP BY, KISS THEIR BOYFRIENDS
and are quickly sent to the control room.

GEORGE ROLLS HIS EYES AT THIS DISTRACTION

IN THE CONTROL ROOM, LOOKING THROUGH THE GLASS POV
at the band playing. Locy operating the tape machine, making adjustments on the board.

INT. LOCY STUDIO CONTROL ROOM. TAPE CONTINUES TO ROLL.
Lee Sexton has shown up to check out the end results. Locy is operating a big disk lathe, Cutting acetate discs for the band to take with them. This is a 'demo tape', 1965 style, an education for the audience here as to the primitive but cool recording techniques of the day. Everybody looks pleased. Lee writes out a check to Locy and hands it to him.

FADE TO BLACK

About—Adapt—Images—Support—Band

---
First he gets murdered - then his adventure begins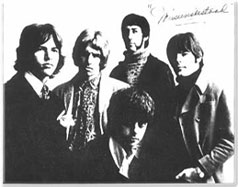 A Rock 'n' Roll Saga like NO other!!!